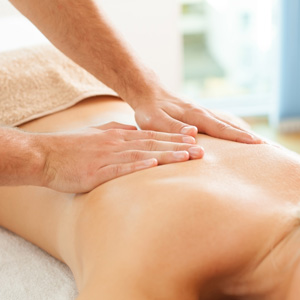 Massage Therapy
North York and Scarborough Locations
Massage Therapy has become an important part of general health care for many people living in today's stressful world. Therapeutic massage is a great way to promote relaxation and stress reduction in our fast pace world. Massage Therapy is hands-on, using various techniques to increase blood circulation and lymphatic flow to promote the healing process of tissue injury.
May Azucena and Kevin Guevara are Registered Massage Therapists in North York and the greater Ontario area. Both are healthcare professionals committed to restoring and maintaining your optimal health and pain-free functioning of your body.
They employ a variety of hands-on techniques to accurately assess and treat the soft tissues of your body. They can help maintain, rehabilitate and augment physical function by improving circulation of blood and lymph within tissues, decreasing pain and inflammation, and improving mobility of tired or overworked muscles.
Therapeutic Massage helps with
Back, neck and shoulder pain
Stress & tension
Headaches (Migraine / Tension)
Joint & muscle pain
Muscle spasms
Ligaments sprains & strains
Fluid retention & poor circulation
Tendonitis
Arthritis
Pregnancy
Fibromyalgia
Sports Injuries
Benefits of Massage Therapy
Relieves pain
Reduces muscle tension
Improves tissue flexibility
Helps in recovery time from injuries & illness
Assists with restful sleep
Reduces overall stress
Improves circulation & increases immune system function
Improves flexibility & range of motion in your joints
Schedule an Appointment Today
To find out more about how our massage therapy services may help you, please contact KIROMEDICA Health Centre today.
CONTACT US »

Massage Therapy in North York, Scarborough ON | KIROMEDICA Health Centre